I attended the Inaugaral

runDisney

event this weekend (11/15 and 11/16) in Atlanta – #OnTheRoadtoDisneyParks. As always Disney knows how to throw a party! I am not a runner, but I am a fan of all things Disney – including runDisney, and getting the opportunity to hear from some of Disney's team first hand about the programs offered was a great way to spend a Friday night!
Media was greeted at

Turner Field

on Friday night in the Sun Trust Club by Team runDisney staff from Orlando and treated to an array of great food, some cocktails and some really great guest speakers! The Orlando team really knows how to make everyone feel welcome.
The Friday night event, OnTheRoadToDisneyParks Team Mom Reception addressed how Disney helps families have an easier time when their children are attending competitions or Disney sporting events held at

ESPN Wide World of Sports

. Putting young athletes in the spotlight and celebrating the parents, families and coaches behind the young athlete and the teams was the message being heard by all in attendance. We heard from ESPN Mike (Michael Cain, ESPN Commentator & Sports Event Manager at ESPN Wide World of Sports), Moms Panelist Angie G., Tara Gidus (aka

@DietDivaTara

), runDisney Nutritionist, and

Warrick Dunn

(

Tampa Bay Buccaneers

) who spoke about his mother's role in his success. We learned about the Disney Sports Solutions programs to assist parents, teams and coaches. Overall, the evening cemented for me Disney's continued commitment to families and teams competing during the year at the ESPN Wide World of Sports.
Some of what can be done for teams and their families:
Fundraising assistance

Food (boxed lunches, snacks, stocked coolers can be delivered to the athletes, coaches, and parents at the teams' competition venue)

Equipment drop-off for the team

Little Champion program (Disney provides activities for younger siblings, while parents and coaches are focused on the competition
Meeting several members of the Orlando team (Darrel, Cullen, Aubrey and Jamie to name just a few) was a pleasure. Each of them have a passion for what they do, for the Disney way and for the Disney fan/guest that shines through when you speak to them. Thank you all for a great evening!
Saturday – the main event – started at 6 a.m. and it was FREEZING!!! But at least Aubrey of Team runDisney from Orlando was prepared for the cold with gloves and hat!
As I have said many times, I am not a runner but I am a huge fan of runDisney and the way they do events. My daughter and many of my friends are runners – great runners – so I have attended many runDisney events as a chEARleader. When the information for this event arrived I thought to myself – well, my daughter can run marathons, my friends can run miles and miles – this is only 2 miles through Atlanta – I can do this! Guess what?? 2 miles is a long time when you are NOT A RUNNER! Another life lesson learned!
I started my run next to a young lady (slightly over-weight) who I am sorry I never got her name. As I struggled a bit initially, she looked at me and said "If my fat a** can do this – you can do this too!" Little does this young girl know that she has now become a great source of inspiration to me and I will always remember her words to me and be grateful for that one statement of encouragement. I will become a runner! Maybe not a full marathon runner. Maybe not even a half marathon runner! I will start slow and set a goal and eventually maybe be that runner that only runs a 5K – but I WILL BE A RUNNER! And there is no better place to learn to be a runner then through runDisney! I saw this young girl finish her run – she was the last runner in – she never gave up – she entered Turner Stadium with a smile on her face and a proud look of accomplishment – she is a true inspiration! (and I will try my hardest to find out her name so that I can thank her properly.)
The morning started with an early check-in that was well organized and energetic. We received our shirts that show #OnTheRoadToDisneyParks Atlanta logo on the back. So glad they added the location to the shirts! We were also able to spend some time socializing with other runners and friends before being led through a warm-up session . The runners were split into 2 groups – one group consisted of runners that just "GO" when its time to start and the second group consisted of runners that follow

Jeff Galloway's

"Run/Walk" method of running.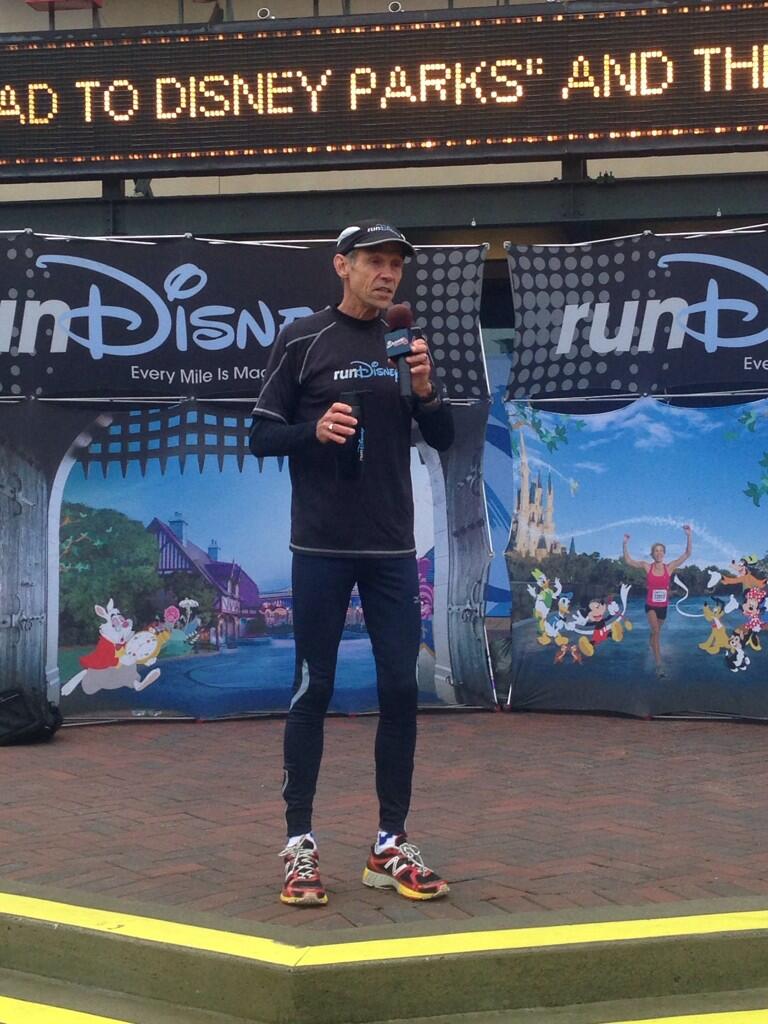 After a 2 mile run through Atlanta and under the Olympic rings runners returned to Turner Stadium for a run around the field. The run ended with all being treated to a great breakfast and some great presentations. ESPN Mike (Michael Cain, ESPN Commentator & Sports Event Manager at ESPN Wide World of Sports) was once again the Master of Ceremony in a very delightful and endearing way! We heard all about a new campaign coming to runDisney Instagram next year #WhyIRunDisney where you will be able to share your stories via video about why you runDisney. We heard from Warren Green of Runners World magazine who talked about the Runners World challenges with runDisney, Olympian

Barbara Parker

(who has never been to WDW – insert gasp from crowd here!)
A representative of New Balance talked about the unexpected success of the runDisney shoes and we were then given a sneak preview of the brand new New Balance running shoes for 2014. The shoes will feature Sorcerer Mickey on the men's shoe and Minnie Mouse on the women's.
This #OnTheRoadToDisneyParks event was done in the typical Disney way – FANTASTIC! If you would like to get into a future #OnTheRoadToDisneyParks event, keep a close watch Twitter, #OnTheRoadToDisneyParks, follow @runDisney, and the

Disney Parks Blog

, and on

Facebook

. Information regarding ESPN Wide World of Sports can be found at

espnwwos.disney.go.com

, and you can follow them on Twitter at  

@DisneySports

 and on

Facebook
.