I recently posted an announcement regarding a new APP to help visitors with dietary restrictions visiting Walt Disney World®. This week my daughter, a food allergy sufferer, used the APP while staying on Disney property. I am re-posting the announcement and explanation of this APP from February 18 because I want anyone that suffers from food allergies to know that this is a wonderful tool! It worked for my daughter even better than she expected. Having food allergies while traveling is always difficult but this APP took the guess work out of eating all meals! It is the best!
REPOST:
Editor's Note: As the mother of an adult daughter who suffers from severe food allergies, Walt Disney World® has always been an easy choice for vacations for many years because of the attention they gave to guests with food allergies. Long before Gluten Free became a "trend", it was an allergy concern for many that found very few places to dine out. Disney has been a leader in addressing gluten free and other specialty diets for a long time. Sarah Norris, the creator of Gluten Free & Dairy Free at WDW has created a site that is a tremendous asset to allergy sufferers like my daughter and now ….there's an APP to help! And…I couldn't be more excited or honored to help spread the news!
More Magic for Gluten Free, Dairy Free Diners at Walt Disney World
Sarah Norris Contributes Over 200 Reviews of GF, DF Dishes at Walt Disney World, Encourages Others to Share Their Experiences on YoDish
CHARLOTTE, NC (February 18, 2014) – If you live a life free of gluten or dairy – or both – you're next trip to Walt Disney World in Orlando, FL just got simpler. YoDish, the startup behind the free iPhone app for restricted diet dining out, has teamed up with Sarah Norris, the leading expert on gluten free, dairy free dining at Walt Disney World, to provide a long list of excellent gluten and dairy free meals across more than 50 resort restaurants. YoDish serves up Sarah's meal photos and comments for the restaurants closest to the app user with links to Sarah's full review of each restaurant at www.glutenfreedairyfreewdw.com.
Like many Americans, Sarah fell in love with Walt Disney World at an early age. However, it wasn't until August 2009 that she made her first special diets trip to the resorts, during which she was amazed at the level of professionalism, compassion, and pure "Disney magic". Inspired, Sarah began blogging routinely about her dining experiences at the resorts, which she now visits on a monthly basis. Disney is widely recognized by the gluten free and food allergy communities as a leader in specialty diet accommodation, with many families facing dietary challenges choosing to vacation at Walt Disney World for this very reason.
"Before I went to Walt Disney World on a gluten free, dairy free diet for the first time, it was challenging to figure out what I might be able to eat, and, as important, what my meals would look like," said Sarah. "My blog, now complemented by my YoDish reviews, gives people comfort that they can experience Disney fully, without their dietary restrictions holding them back."

Justin Cunningham founded YoDish to provide specialty diet communities a platform for sharing dining out experiences, and he immediately recognized the opportunity for YoDish to extend the reach of Sarah's extensive resource to a new audience looking for restaurant meals on-the-go. Justin and Sarah met at the first annual Food Allergy Bloggers Conference in November 2013 and began working on the joint effort soon thereafter.
"Our vision at YoDish is to show those with restricted diets everywhere the suitable restaurant dishes closest to them," said Justin. "Sarah's contribution of gluten free and dairy free meals at Walt Disney World is a huge step toward the realization of that dream."
Sarah and Justin are now encouraging others who manage dietary restrictions to post reviews to expand the impact of the resource. Anyone with an iPhone can download the app for free, see reviews by folks with similar restrictions, and post reviews of their own dining experiences to "pay it forward".
"We limit reviews to 250 characters, so it is really very quick to add a picture of your meal and a brief comment. It's like tweeting or sharing a photo with Instagram."
"Seeing photos of real meals helps diners start the conversation with Disney's Special Diets Department in advance of their visit or be better prepared when speaking with Disney Chefs onsite, so it is important for as many people to contribute as possible," said Sarah.
Depending on your dietary profile and geographic location, you may or may not see many dishes near you right now since YoDish is a relatively new resource. The more reviews you add in your own area, the faster the community will grow. However, you can be sure that many meals will entice you on your next gluten free, dairy free trip to Walt Disney World.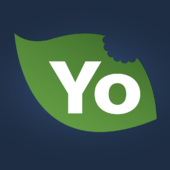 ABOUT YODISH
YoDish, a free iPhone app, enables people with gluten intolerance and food allergies as well as vegetarians and vegans to share their restaurant dining experiences while on-the-go. YoDish is socially driven and leverages FourSquare's global locations database to provide users an instant list of the restaurants near their current location. Users can post their dish reviews in the app as well as to Facebook, Twitter, and FourSquare. Justin and Emily Cunningham, whose daughter has been diagnosed with severe allergies to dairy, eggs, peanuts, and tree nuts, understand the challenges involved in eating out with dietary restrictions. Learn more about and download YoDish at http://bit.ly/YoDish.
ABOUT GLUTEN-FREE & DAIRY-FREE AT WDW
Gluten Free & Dairy Free at WDW was founded by Sarah Norris in 2009 and is the top source for gluten free and dairy free dining information at the Walt Disney World Resort. Gluten Free & Dairy Free at WDW contains reviews, tips, tricks and trip planning resources to assist those visiting Disney with a special diet. In addition to resources found on the Gluten Free & Dairy Free at WDW site, those interested in special diets at Walt Disney World can also find on-the-go information through the site's podcast, found on iTunes.
Justin Cunningham
Founder and CEO
YoDish
(704) 602-5156
justin@yodish.com